Introduction:
---
1. The machine is running steady with strengthened single-side driving system and it is also easy for maintenance.
2. The motor is controlled by a transducer(inverter)which is available for automatic timing.It is also easy for maintenance.
3.Paper is feed by several thick belts under the help of vibration motor. Feeding is continuous exact and automatic with this system.
4. Grinders are provided in both sides of machine to make gluing more stable and firm
5. The machine is able to fold and glue straight line boxes.In the pre-folding part, the first fold at 180o, the third fold at 90o, the second fold and the fourth fold box at 180o. Options for 180o-135o in pre-folding part is available.
6. An infrared photo-electric control system is in this machine. Pressing unit and counter will work synchronously with the feeding speed. Machine will slow down and stop running when no sheet there to reduce waste.
7. Small box like out-put size at 30mm is able to be done after the special design according to customer requirement.

Technical parameter:
---
| | | | | | | | |
| --- | --- | --- | --- | --- | --- | --- | --- |
| Model | ZH-880PFT | ZH-1000PFT | ZH-1200PFT | ZH-1300PFT | ZH-1400PFT | ZH-1600PFT | ZH-1800PFT |
| A Max | 580mm | 780mm | 980mm | 1050mm | 1150mm | 1380mm | 1600mm |
| A Min | 110mm | 150mm | 220mm | 300mm | 300mm | 300mm | 350mm |
| B Max | 580mm | 600mm | 750mm | 780mm | 850mm | 900mm | 900mm |
| B Min | 70mm | 100mm | 200mm | 200mm | 200mm | 200mm | 500mm |
| Max speed | 180m/min | 180m/min | 180m/min | 180m/min | 180m/min | 180m/min | 180m/min |
| Power | 3.0kw | | | | | | |
| Weight | 1600kg | | | | | | |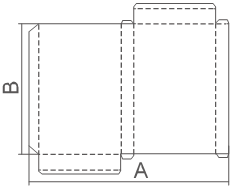 Straight line box