78 92G 115G 130G 137G 168G 188G

Instruction:



---
◆The up-to-date 15.6" widescreen LCD, full touch screen; Siemens PLC control.
◆Eight languages to choose.
◆Metric system and British system two units, shows the size front of knife and back of knife.
◆Stepless speed adjustment function with latest technology, to make the cutting speed from 30 to 48 times within 1 minute, no need to change knife angle for different cutting material.

◆Position resolution of backgauge is 0.01mm, closed-loop control, the locating error is less 0.01mm; No need to adjust locating error. Max. backgauge speed is 18m/min.
◆The program storage capacity is 300 programs. Every program can store 299 items cutting sizes. The storage memory has a maximum of 40 years.
◆With USB, transmit data, to convenient operator make programming and arrangement via PC.
◆Equipped with fault diagnostics and non-repreat safety guards. It can detect all the position switch state, and dynamic prompt switch failure, make the machine more convenient maintenance
◆The backgauge is driven by a Panasonic servo-motor with four speed levels.
◆Use Italy oil pump and hydraulic system
◆With automatic pushing paper function, the distance can be adjusted.
◆Adjustable time delay for knife activation, accurate and convenient.
◆Uses icons to show operational functions, which are simple and user friendly.
◆With full automatic cutting function..The backgauge and knife movements can be monitored on the screen.

Machine Features:
---
◆Knife-seat guiding structure with sliding block type, cam type for adjusting-knife mechanism.
◆Clamp press paper stack through hydraulic system, the spring re-position.
◆Worm gear drive mechanism, hydraulic clutch, mechanical brake.
◆WESSEL hydraulic system from Germany (optional), Italy oil pump.
◆Switzerland ABB main motor(optional).
◆One-piece, slotless and chrome-plated cast iron work table is sturdy and easy to maintain.
◆Import ball screw with double linear guides to drive backgauge.
◆Whole sealing safety guard for rear work table (optional).
◆Germany LEUZE infrared protection device(optional).
◆Main electronic units are from French TE and Japanese ORMON famous international brands.


Detail diagram:

---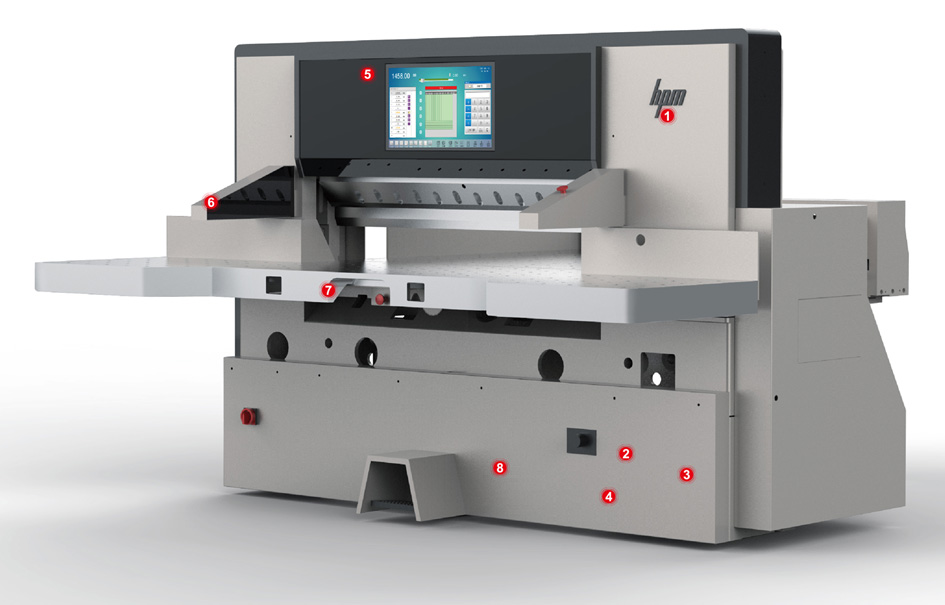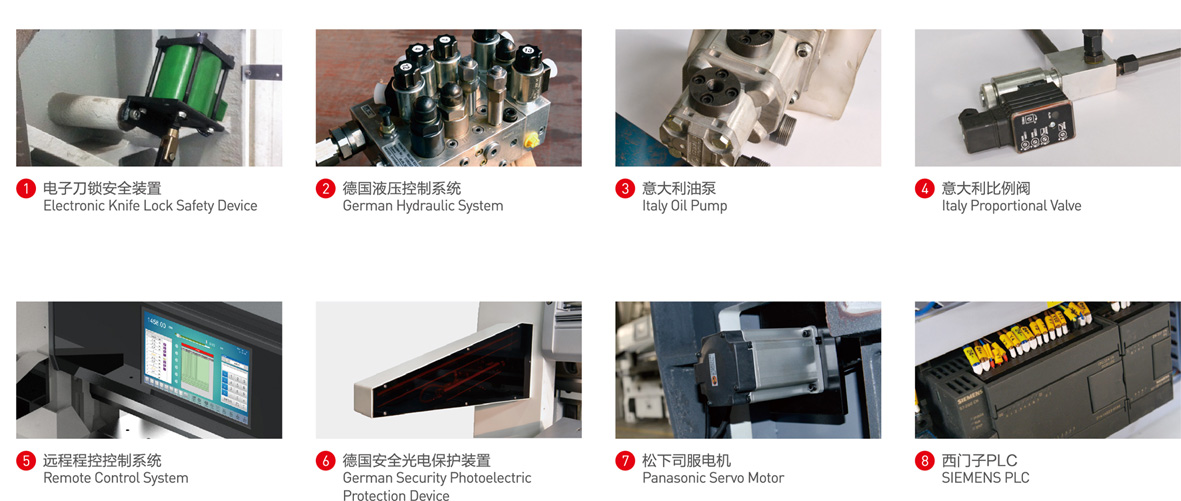 Technical parameter:
---
Model




78

92G

115G

130G

137G

168G

188G

Max cutting width

cm

78

92

115

130

137

168

188

inch

30.7

36.2

45.3

51.2

53.9

66.1

74

Max cutting length

cm

78

92

115

130

145

168

188

inch

30.7

36.2

45.3

51.2

57.1

66.1

74

Max cutting height

cm

12

12

16.5

16.5

16.5

16.5

16.5

inch

4.7

4.7

6.5

6.5

6.5

6.5

6.5

Min cutting size without false clamp plate

cm

2.5

2.5

3

3

3

3

3

inch

1

1

1.2

1.2

1.2

1.2

1.2

Min cutting size with false clamp plate

cm

5

9

9

9

9

9

9

inch

2

3.5

3.5

3.5

3.5

3.5

3.5

Front table length

cm

69.7

63.2

72

73

73

75

75

inch

27.4

24.9

28.3

28.7

28.7

29.5

29.5

Max clamp pressure

N

35000

35000

40000

40000

45000

60000

70000

Cutting speed

T/Min

45

45

46

46

46

46

46

Main motor

KW

3

3

4

4

4

5.5

5.5

Gross power

KW

4.3

4.3

5.85

5.85

5.85

8.4

8.4

Net weight

Kg

2200

2200

3700

3900

4100

6200

6600

Packing size

cm

228*160*185

228*140*185

290*175*212

290*175*212

290*175*212

360*205*220

380*205*220